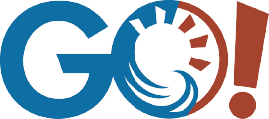 2017

Blackstone Heritage Corridor, Inc. (BHC) launched its first GO! program two years ago. The month-long September program is designed to promote unique experiences in the 25 communities of the Blackstone River Valley National Heritage Corridor and also to encourage new visitors to travel to the area, take in the natural beauty, and learn about the rich history in the region.
Volunteers present guided hikes, paddles and bike rides, historical walking tours, nature adventures, festivals and more. In 2016, GO! presented 75 experiences to more than 80,000 participants and received lots of great press. BHC is anticipating more than 150 unique experiences for this year's event.
GO! 2017 Experiences and Events
Experiences
It's a free opportunity on a specific date and at a specific time to hear about a person or place, or learn about a project in the Blackstone River Valley. It may be a walk, hike, pedal, paddle, horse ride, wagon ride, or boat ride tour. The participants will enjoy a special experience they can't get on their own without the benefit of an expert guide – someone who has a love for and knows something about the resources in the National Heritage Corridor. And the more experiences that are offered, the more successful GO! will be. All Experiences must be free of charge and they must be guided. If you would like to host an Experience, please fill out the top portion of the submission form.
Events
It's an activity open to the public in the Blackstone River Valley. It does not have to be guided and admission can be charged. It may be a festival, book sale, corn maze, antique appraisal day or other activity. You may already have something planned for September that can become an event for GO! If you would like to add your event to this year's GO!, please fill out the bottom portion of the submission form.
Sponsorship Opportunities for GO! 2017
Promotion of GO! includes a 50+ page full color brochure with 10,000 copies printed and distributed throughout the region. Ads for GO! will appear in Yankee Magazine and other regional print media and the brochure is downloadable from BlackstoneHeritageCorridor.org.
Presenting Sponsor (one available):
$1,000 Supporting Sponsor:
$500 Supporting Sponsor:
$100 Supporting Sponsor: