Coming Soon: The "Margaret M. Carroll Memorial Greenway Access Area" at the Blackstone River Greenway in Millville, MA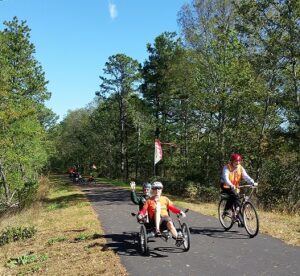 In memory of Margaret Carroll's many years as Millville's town historian, educator, preservationist, and charter member of the Blackstone River Valley Volunteers-In-Parks program and the John H. Chafee Blackstone River Valley National Heritage Corridor, a section of the Blackstone River Greenway in Millville, MA, will be named the "Margaret M. Carroll Memorial Greenway Access Area."
On August 26, 2022, legislation was passed for this special dedication at the Massachusetts State House under Chapter 201 of the Acts of 2002. Included in the legislation is a directive that the Massachusetts Department of Conservation and Recreation shall erect a memorial bench and signage bearing this dedication. Massachusetts State Representative Michael J. Soter and Massachusetts State Senator Ryan C. Fattman introduced the legislation first proposed by Margaret Carroll's longtime friend Joe Doherty and presented by Blackstone Heritage Corridor's Board Chair Richard T. Moore.
"As a researcher and writer of Blackstone Valley history, I have met many people involved with revitalizing the river over the years, but none as enthusiastic and tireless as Margaret," Doherty explained, noting the friendship began in 1990. "She always encouraged me in historical endeavors, to the point that even today when I write about the Blackstone River, it's Margaret I picture reading my words."
Doherty reached out to the Blackstone Heritage Corridor (BHC) in the summer of 2021 following her passing earlier that year. He connected with BHC's Board Chair Richard T. Moore to explore some recognition in Carroll's name in the town of Millville for her role leading to the establishment of the Blackstone River Valley National Heritage Corridor and the Blackstone River Greenway, which passes through Millville. Moore suggested the idea of naming the access point to the Greenway in Millville in her name and reached out to Representative Soter. With additional support from Senator Fattman, legislation was approved directing that "the Millville node of the Blackstone River Greenway located at the Central street parking area in the town of Millville shall be designated and known as the Margaret M. Carroll Memorial Greenway Access Area."
"Margaret Carroll contributed so much of her time and talent to preserving the history of the Blackstone Valley," Moore noted. "Her dedication to the youth of Millville and the Blackstone Valley has been honored by the Blackstone-Millville Regional School District with the dedication of the Millville Elementary School Auditorium in her honor during her lifetime.  I know that this was a source of great pride for her. I believe dedicating a portion of the Blackstone River Greenway properly recognizes Margaret's enthusiasm for volunteering for the Corridor and the Valley's history, and I am pleased to see this come to fruition."
Plans are set for a ribbon-cutting dedication ceremony on Thursday, October 27, 2022, at 1:30 p.m. at the Millville parking area for the Blackstone River Greenway at the corner of Central and Hope Street in Millville, MA.
Pictured above is Margaret Carroll waving in the rear of a tandem adaptive bicycle back in October of 2018. It was her "Bucket List Ride" after the Blackstone River Greenway opened.