Cycle Touring Essentials Workshop
May 4 @ 10:00 am

-

3:00 pm

$15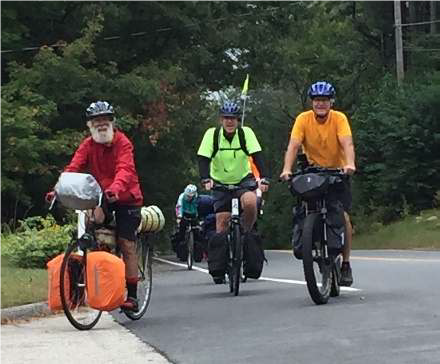 Like to backpack? Like to ride your bike? Why not combine the two?
This one-day Cycle Touring Essentials Workshop covers the basic information needed to get you on the road cycle touring. We will cover what makes a perfect touring bicycle, but more importantly, how you can tour with YOUR bike. We will cover the different types of touring, route/trip planning, finding places to stay, methods and systems for pannier packing, alternatives to panniers, equipment lists, cycling safety, and provide an array of handouts on where to find specific information and resources. The afternoon session will be a hands on demonstration of what to bring and how to pack it. Fully loaded bicycles and their owners will be available to answer questions, compare pros and cons of various equipment, and offer helpful hints. With this year's workshop, we will touch on the new
sport of 'Bikepacking' and demonstrate a fully-equipped bikepacking setup that's also been used for road touring. As a class participant, you will be given preference to our beginner 2-
day/one night mini tours to a local state park. This workshop will be held at the new Blackstone Heritage Corridor Visitor Center, Worcester, MA.
AMC Members $10* | Non-Members $15* | Reduced $5.00* fee for active AMC Leaders (any activity, all chapters).
*Non-refundable after April 15.
You must pre-register – no "Walk In's" please.
See AMC Activity Listing for Registration
Related Events