176 Providence Rd.  (Rte. 122), Grafton, MA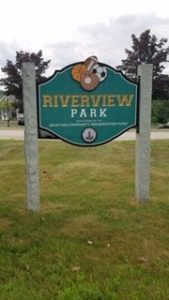 The Quinsigamond River is a river in central Massachusetts. It is a tributary of the Blackstone River and ultimately drains into Narragansett Bay. Although the Quinsigamond has many small tributaries and drains a sizable area, the river proper is only 5.6 miles long.  The Quinsigamond River flows south out of Lake Quinsigamond in Worcester and Shrewsbury, MA, flows through North Grafton and Grafton to South Grafton, making its way to the Blackstone River in Fisherville, and then on to Narragansett Bay.
This paddle has the combination of the wide open Fisherville Pond and the narrow and winding rivers of the Blackstone River and the Quinsigamond River.  When paddling southerly into the Blackstone River (northern branch), if the water is high enough, you can get past the Pleasant Street Bridge before it becomes rocky and shallow.  You can also take the southern fork of the Blackstone inlet.  If you travel North past the put-in, you will venture into the Quinsigamond River.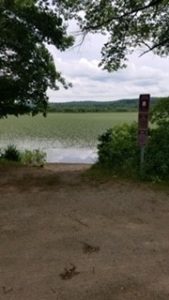 Important: Follow the road into the park off (RT 122) (past the apartments on your right) there is a launch straight ahead.   Or when you get to what looks like the end of the road (you'll see water on your left), take a right (head toward a port-a-potty) and follow the dirt road along the edge of the soccer field. There is a second launch at the end of that road.
Suitable for all skill levels­­­­­­­­­­­­­­­­­­­­­­: YES
Parking on site: 30 spaces, ADA accessible
Restrooms: Port-A-Potty
Access: boat ramp
Supervising Entity: Grafton Community Preservation Fund