2890 Broncos Highway, Route 102 Burrillville, RI
Paddling access to Slatersville Reservoir is at Slatersville Fishing Area. The state boat ramp is on the upper part of Slatersville Reservoir, which is a convoluted 144-acre reservoir with a number of coves to explore in a small boat. The Branch River flows into the southwest end of the reservoir. The east side of the reservoir is largely wooded, while the west side has more houses. There are no special restrictions on outboards used on Slatersville Reservoir. Make sure to stay clear of the dam at the far northeast end of the reservoir, where the water flows over the dam into the lower portion of the reservoir, dropping about 20 feet in the process.
Suitable for all skill levels.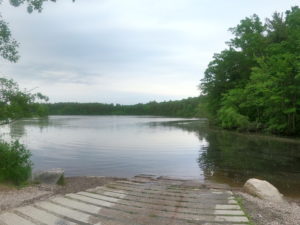 Parking: 30 spaces, ADA accessible
Restrooms: None
Access: Boat ramp
Supervising Entity: Rhode Island Department of Environmental Management