2016
After more than a decade of engaging partners and planning for a northern gateway to the National Heritage Corridor, work has finally begun at the site in Worcester. This year hundreds of yards of PCB contaminated soil and over 4,000 cubic yards if additional low level contaminated soil were removed from he former Washburn Moen site and disposed of in an environmentally appropriate manner. Additionally, roughly 30,000 cubic yards of site soils were regraded to "terrescape" the future visitor center property. The site grading was carefully engineered to balance the soils along the parking lot areas and to form a hill to the north of the property. The hill design will provide a visual and sound barrier to Route 146.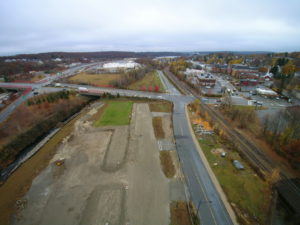 Nearly 600 feet of the historic canal wall was restored, including more than 50 feet of the wall which was in such poor condition that it was completely rebuilt to a 15-foot height using original canal stone.
BHC completed the exhibit design phase in 2016 and began funding efforts for exhibit manufacture and installation.