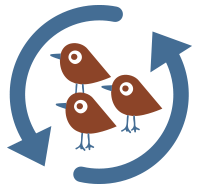 Partnership Grant Program
Blackstone River Valley National Heritage Corridor (BRVNHC) is pleased to announce a round of partnership grants for nonprofits within the Corridor that are striving to keep up or advance their mission during these difficult times. BRVNHC will provide grants up to $2,000.00 for equipment, services and training to improve remote communications (i.e. virtual meeting or e-newsletter subscriptions, cloud-based software, website upgrades, etc.), or provide alternative means of engaging the public (i.e. video/audio equipment for virtual tours or podcasts, equipment to photograph, scan, and digitize collections, etc.).
Grants will be awarded up to $2,000.00 and must be matched 1:1 by cash or in-kind contributions. Applications are accepted on a rolling basis.
A 1:1 match of cash or in-kind contributions (such as volunteer labor or donated supplies) must be demonstrated.
Projects must be completed by September 30, 2020.
Application Details – Please provide the following information in a letter:
Applicant Organization
Total Amount Requested from BRVNHC
Total Match Provided by Applicant
Project Mailing Address
Phone
E-mail
Website
Federal Employer Identification Number (required)
Name and Signature of Project Director (electronic signature is acceptable)
Date
Please answer the following questions concisely:
What are you requesting and why is the equipment, service or training needed? How will it help you fulfill your mission?
Who will be responsible for project implementation and what are their qualifications?
What is the budget for the project? Please provide details, including cost estimates for the equipment, service or training you wish to procure.
How are you reaching the 1:1 match (cash, donated materials,or in-kind contributions such as volunteer labor )? Please specify the personnel you are contributing as match and use the Federal volunteer rate of $25.43.
Additionally:
Provide evidence of 501(c) non-profit status from the U.S. Internal Revenue Service; and
Written documentation by the institution director or appointed representative approving submission of the grant application and confirming the availability of matching funds and/or in-kind contributions.
Include mention of BRVNHC support in publicity. BRVNHC will supply a copy of its logo.
Send Application Letter and Support Materials to:
Blackstone River Valley National Heritage Corridor
attn. Partnership Grant Program
670 Linwood Avenue
Whitinsville, MA  01588
or by email to dkurtz@blackstoneheritagecorridor.org
For More Information
If you have any questions about the grant program or would like to discuss your proposal prior to submission, please email Devon Kurtz at dkurtz@blackstoneheritagecorridor.org.