GearHead Neighbors – Meet Ranger Kevin
Ranger Kevin Klyberg
---
The Blackstone River Valley National Historical Park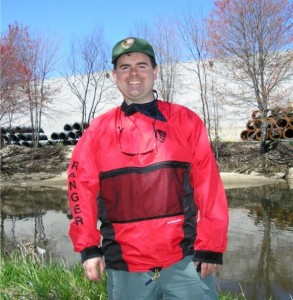 I was born and raised in the Blackstone Valley. In fact, the Blackstone Canal runs right behind the house where I grew up. Now I have the chance to help build a new National Park – right here in my own backyard.
What does a National Park Ranger do?
A big part of my job is sharing stories about all the wonderful places, the history, and the people here in the Blackstone Valley. Sometimes I do that in a classroom, but my favorite way is to take visitors out to see the different sites that make up our National Park. Much of the time I take people on walking tours, but I have also done tours on trains, buses, horse-drawn wagons, canoes, kayaks, bicycles, and on the excursion boat, the Blackstone Valley Explorer.
How did you become a Park Ranger?
I studied history in college, but did not know what I was going to do for a job. I heard about an opportunity to give tours on the Blackstone River and I thought that sounded like fun. For two summers, I gave hundreds of tours. I learned a lot about being an interpreter – that means I learned how to provide information and inspiration in the right amounts and at the right times so that you, our visitors, will have more enjoyable and meaningful experiences. After that, I spent a few months writing walking tour brochures. I was hired by the National Park Service in 1996. Since then, I have enjoyed exploring the fabulous sites of the Blackstone River Valley with visitors like you.