Published May 27, in the Valley Breeze.
National Heritage Corridor seeks help with new pledge
If you're thinking about planting a garden this year, consider making it friendly for pollinators.
The Blackstone River Valley National Heritage Corridor is asking individuals and organizations to sign a pledge to help protect pollinators, including bees, which play an important role in flower plant reproduction.
"Given the breadth, severity, and persistence of pollinator losses, it is critical to expand efforts to take new steps to reverse pollinator losses and help restore populations to healthy levels," states the resolution.
The idea is to have people, businesses, farms, schools, land trusts, conservation commissions and other organizations take a simple pledge describing how they will work to protect pollinators, whether they plant a pollinator-friendly garden or stop using pesticides, said Bonnie Combs, marketing director for the Blackstone River Valley National Heritage Corridor.
For more details or to sign the pledge, visit https://blackstoneheritagecorridor.org/protect-our-pollinators/ .
"Three-fourths of the world's flowering plants and approximately 35 percent of the world's food crops depend on animal pollination to reproduce," according to the pledge, and "pollinator species provide significant environmental benefits that are necessary for maintaining healthy, biodiverse ecosystems."
Dave Newton, a University of Rhode Island Master Gardener and board member for the Cumberland Land Trust, said that bees play a very important role in the food chain, so it's vital that we keep their populations up both locally and nationally, adding that they pollinate everything from small gardens to crops on industrialized farms.
For folks growing their own food, "attracting the bees will only provide you with a greater amount of fruit and vegetables," he said.
If you want to create a pollinator-friendly garden, include flowers and plants native to the area. Make sure to plant a variety that bloom at different times of the season, said Combs.
Aster, for example, blooms later in the season and makes great "fall food for the bees," she said, adding that it also attracts butterflies.
In addition to bees, other pollinators include butterflies, moths, flies, beetles, birds, and bats.
"The more gardens are planted, the more food there is out there," said Betty Mencucci, Bee School instructor for the Rhode Island Beekeepers Association.
While there are hundreds of different types of plants to pick from, Newton said the trick is to know what pollinators in this area are looking for. The closer you can get to plants native to Rhode Island, the better off your garden will be in attracting pollinators.
"If you're using native plants … your job is almost done once you plant them" since they know how to survive in this particular microclimate, he said.
Some examples of pollinator-friendly plants include cardinal flower, goldenrod, and aster, he said.
Fruit blooms, such as apple, peach, and plum trees, are other good options, and sweet pepperbush shrubs are deer resistant, Mencucci said. Don't forget about trees, she added. Oak and maple trees are both good sources of nectar and pollen.
While a lot of people kill off dandelions, they are "one of the best early sources of nectar and pollen for honeybees," Mencucci said.
Clover is another great source for pollinators, and it's healthy for your lawn and soil, Combs said.
Newton suggests that people visit local nurseries and ask specifically for plants native to this area. "Some of these hybrids the bee doesn't even know what to do with," he said.
For a guide about how to grow pollinator gardens in Rhode Island, visit www.pollinator.org/PDFs/EasternBroadleaf.Oceanic.rx18.pdf . For a list of pollinator-friendly native plants, check out https://web.uri.edu/rinativeplants/ .
If you want to start a pollinator garden completely from scratch, there are different companies that make seed mixes specifically for bees or butterflies, Mencucci said. It takes three years for a garden to really flourish, she said.
Other ways to help are to provide water sources, build bee houses, and try to avoid using pesticides, which are harmful to bees, opting instead for natural and organic alternatives, Combs said. The number of wild pollinators has declined as more people spray pesticides and insecticides, Mencucci noted.
While most people like to have neat, clean gardens, Combs said one tip that's good for pollinators is to keep it a little messy. Leaf litter and dead plant stalks become nesting areas for pollinators.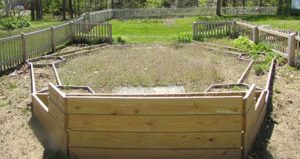 Support and know local beekeepers and buy local honey, which is "always best for your immune system," she added.
If people want to help grow two up-and-coming pollinator gardens in Lincoln, they can donate plants. Members of the Blackstone River Watershed Council/Friends of the Blackstone are looking to start a pollinator garden at Sycamore Landing, their current headquarters at 100 New River Road. Combs and her husband, Chris, recently donated and installed a beehive there. Anyone wishing to donate plants can email BRWCFOB@gmail.com .
Email Combs at bcombs@blackstoneheritagecorridor.org to donate plants to a honeycomb-shaped garden at the Captain Wilbur Kelly House Transportation Museum.
June 22-28 has been named National Pollinator Week. For more, visit www.pollinator.org/pollinator-week .