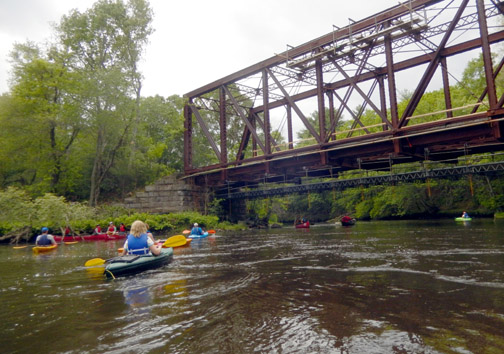 Let's GO Paddle in the Blackstone Watershed! The Blackstone Valley Paddle Club will lead this GO! event on the Blackstone River. There is no membership requirement for this GO event. The put-in is at the end of County Rd in Blackstone MA. GPS Coordinates: N42 00.923 W071 33.165. Trip is suitable for all boats.
We'll paddle under the Triad Bridge, make a quick stop at the Millville Lock, the best preserved lock from the Blackstone Canal, and continue to just downstream from the Millville Rapids.
Every Tuesday from mid-May through August the Blackstone Valley Paddle Club paddles a different part of the Blackstone River watershed. Membership is required. If you are not a yet a member and are undecided about joining, come with us for a trip to help make up your mind. Introduce yourself to one of the trip leaders in the orange shirts who will be happy to answer any questions you may have.
Properly fitting PFDs are required to be worn on all BVPC trips including this GO event. Inflatable PFDs or boats are not acceptable for BVPC trips. Trip details and other information can be found at: http://www.ricka-flatwater.org/bvcal.htm. Check the message board for changes or cancellations before leaving for any trip. http://members.boardhost.com/FLATWATER/. If a trip is cancelled due to weather we will try to offer it on the next day (Sunday for this go event).