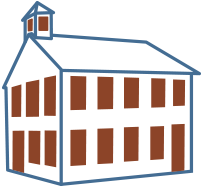 Learning/History of the Valley
Over millions of years, magma cooled, oceans rose and fell, continents collided, and the glaciers slowly sculpted the distinctive geography of the Blackstone River Valley. Around 12,000 BP (Before Present), Paleo Indians arrived in the Blackstone Valley, the first humans to shape the landscape. They left evidence of the materials they used to harvest wildlife at documented sites in present-day Worcester, Uxbridge, Sutton, Hopedale, and other locations. By the Late Woodland period, they were establishing settlements focused on agriculture. However, their impact on the landscape was minimal compared to that of the Europeans who followed.
Beginning with William Blackstone in 1635 and continuing for the next four centuries, humans molded the watershed, both for better and worse. Today, we celebrate the contributions of the region to the American Industrial Revolution as we also reclaim damaged waterways and habitats.
Senator John H. Chafee

Because of Senator John H. Chafee's (1922-1999) extraordinary service to historic preservation and his advocacy for the Blackstone River Valley, the National Heritage Corridor was renamed in 1999 - The John H. Chafee Blackstone River Valley National Heritage Corridor. He was also the 66th Governor of Rhode Island and the Secretary of the Navy under President Nixon. John H. Chafee was awarded the Presidential Medal of Freedom posthumously in 2000 by President Clinton.
U.S. Senator Edward M. Kennedy, (1932-2009)

During my many visits to the valley, whether to Waters Farm in Sutton, Massachusetts, or by train along the river, this extraordinary historical area stands out as one of the jewels of our nation, a living landscape that speaks to our nation's great social movements and technological advances, and it helped lay the foundation for the world power the nation would become.

Today, few remnants remain of our early industrial period. Many of the old mill buildings have been demolished and replaced with modern structures, or put to entirely different uses. That's why the Blackstone River Valley National Heritage Corridor, which preserves and promotes understanding about mill community living, is so important. It offers a glimpse of America as a young nation on the way to becoming a world power, and it honors the ingenuity and hard work that led us forward.

(Worcester Historical Museum. Landscape of Industry, An Industrial History of the Blackstone Valley. Lebanon, NH, University Press of New England, 2009.)