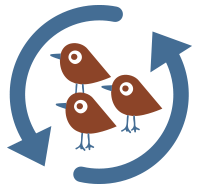 Join the BHC Trash Responsibly™ campaign to rid the Blackstone River Valley of Litter! Litter is not only unsightly and a blight on our cities and towns, but it also adversely impacts water quality. One piece of litter can find its way into a storm drain, then into a brook, a stream, a river, and out into the ocean.
Help us eliminate litter and Trash Responsibly™! Get your BHC Trash Responsibly™ Car Litter Bag from our Corridor Keepsakes page. The bag is made from recycled plastic and can be used in cars, on strollers, on bikes, snowmobiles, and horses! Let's take care of our environment!
Thank you to Anchor Subaru of North Smithfield, Rhode Island for being the first sponsor of our Trash Responsibly™ program!
Thank you for demonstrating your commitment to the environment!