Meet the Artists at Closing Reception on March 20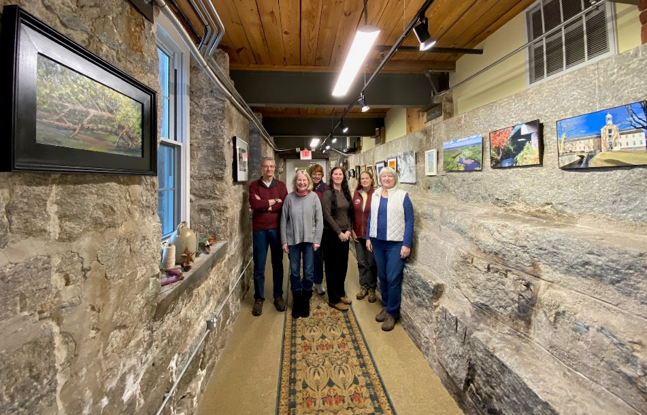 A gallery show at Blackstone Heritage Corridor's office in Whitinsville, MA, celebrates the "Beautiful Blackstone Valley" with artists from the Blackstone Valley Art Association (BVAA). Pictured here (left to right) are Bob Evans, BVAA Vice President (also a Blackstone Heritage Corridor Photography Ambassador); Linda Nelson (a BHC 2020 Calendar Photo Contest winner for May and the cover); Carol Frieswick; Lisa Shea, BVAA President; Brandi Van Roo; and Beverly Tinklenberg. Not shown: James Hunt, Bob See, Bonnie Frederico, and Libia Goncalves. A closing reception is scheduled for Friday, March 20 from 5:00 p.m. to 7:00 p.m.
Whitinsville, MA (February 12, 2020) – Following the success of its first gallery show in November for its 2020 Calendar Release Party, Blackstone River Valley National Heritage Corridor (BHC) invited artists from Blackstone Valley Art Association (BVAA) to celebrate the "Beautiful Blackstone Valley" with a
show featuring different art mediums. A call for artists was sent out by BVAA president Lisa Shea and on January 18, several BVAA artists came to BHC to hang their work.
Among the participating artists is Bob Evans of Northbridge, MA, who serves as BVAA Vice President and is a volunteer with BHC's Photography Ambassadors. He has two photographs in the show, "Blackstone River and Mount Wachusett," a colorful drone shot above the Blackstone River, and "Millville Lock," a black and white photo of the historic lock along the Blackstone Canal in Millville, MA.
Carol Frieswick of Whitinsville, MA, has four oil paintings in the show including "Blackstone Marsh," "Birding House," "Plummers Landing," and "A Fallen Treasure." Bob See of Sutton, MA, shared his color photograph "Sutton Gazebo," which was featured in BHC's 2016 calendar in the month of December. Brandi Van Roo of Douglas, MA, submitted her watercolor painting "Village Congregational Church," capturing its stunning Greek Revival architecture. The church sits across from the Town Common on Church Street in Whitinsville, MA. Bonnie Frederico of Grafton, MA, joined the show with her painting, "Swan in Flight." Linda Nelson of Sutton, MA, hung two color photographs, "Slater Mill" and "Millbury Bike Path." Nelson is also a Blackstone Heritage Corridor calendar photo contest winner. Her photo "Morning Has Broken" is featured both on the cover and in the month of May in BHC's 2020 calendar.
Beverly Tinklenberg of Whitinsville, MA, contributed an oil painting titled "Casualty of the Blackstone." The casualty she captured in her painting is a fallen tree in the Blackstone River. James Hunt of North Grafton, MA, submitted his archival inkjet print, "Dock, Blackstone Canal, Fall 2016," taken at Blackstone River & Canal Heritage State Park in Uxbridge, MA. His photo of the famous dock overlooking the Blackstone Canal Tow Path was featured as a November image in BHC's 2018 calendar. Libia Goncalves of Milford, MA, added her mixed media painting, "Fun at River Bend Farm" to capture people kayaking in the Blackstone Canal. Lisa Shea, who lives in Sutton, MA, contributed her color photo titled "Sutton Sunset" which captures a brilliant orange sky reflecting on the road below.
All of the pieces in the show are available for sale and a portion of the proceeds will be donated by the artist to the Blackstone Heritage Corridor. The BHC Gallery is located at its office at the Linwood Mill, 670 Linwood Avenue, Whitinsville, MA, and is open Monday through Friday from 9:00 a.m. to 5:00 p.m. A closing reception will be held on Friday, March 20 from 5:00 p.m. to 7:00 p.m.
To inquire about the gallery space and future shows, contact Bonnie Combs at 508-234-4242 or bcombs@BlackstoneHeritageCorridor.org.