Championing the Blackstone River Bikeway/Greenway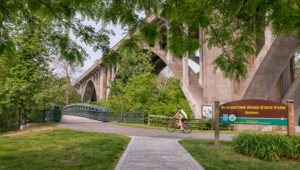 Take Action – Become a Bikeway Champion!
Help is urgently needed to move the long-sought Blackstone River Bikeway/Greenway project toward the finish line in both Massachusetts and Rhode Island to make this dream a reality!
In Massachusetts, where much of the pathway remains to be designed and built, there is a special opportunity for each of us to reach out to Governor Baker and state lawmakers to include bikeway projects in a pending capital outlay bond bill – House No. 4336. Please take a moment to contact state officials to include four projects in the bond bill.
The segment of the Blackstone River Bikeway/Greenway in Blackstone that would link Massachusetts with the Rhode Island section of the bikeway is shovel-ready – designed and within state ownership – and construction could begin with an investment of about 8 million dollars from the bond bill.
Preliminary planning is already underway on two other segments from Route 146A in South Uxbridge to the McCloskey Building and the Blackstone River & Canal Heritage State Park behind the Stanley Woolen Mill that could move to final design and construction in the next two years for about another 8 million.
An important gap in the Canal Towpath in the Plummer's Landing, Northbridge segment in the Blackstone River & Canal Heritage State Park is in urgent need of repair to prevent further erosion of the popular walking path by the Blackstone River. The gap has existed for a decade despite pleas for repair and could be restored by an estimated $3.5 million.
Finally, a critical westward trail linking with the Blackstone River Bikeway/Greenway in South Uxbridge is in final design. There is overwhelming public support to use an environmentally-sensitive surface for the Southern New England Trunkline Trail (SNETT) rather than paving through Douglas State Forest, linking riders to more adventures in Northeast Connecticut. An investment of $8 million could construct this segment in the next two years, thus expanding the recreational opportunities along the Blackstone Bikeway.
In short, for an investment of less than one percent of the total proceeds from the bonds authorized by House Bill 4336, South Central Massachusetts residents and visitors could soon enjoy a substantially improved and expanded linear recreational facility!
In Rhode Island, Governor McKee and Valley legislators also need to make completing the Blackstone River Bikeway a top priority for the Department of Environmental Management (DEM). The project in Rhode Island is much further along than in neighboring Massachusetts, but there are still important gaps, including segments in Woonsocket that are critical to making the link to Massachusetts and, thus, adding additional miles to reach Worcester. Substantial federal dollars for infrastructure are now available to fund this initiative, so now is the time for concerted action.
Blackstone Valley residents on both sides of the state line have a great opportunity to call for their state governments to invest in new recreational and environmental resources that will enhance this region as the "Birthplace of America's Industrial Revolution."  Let our voices be heard!
To find your legislator in Massachusetts, visit https://malegislature.gov/search/findmylegislator.
To find your legislator in Rhode Island, visit https://vote.sos.ri.gov/Home/ElectedOfficials.
10 a.m. to Noon
2 p.m. to 4 p.m.
Read Richard T. Moore's Op-Ed in the March 7, 2022 edition of the Worcester Business Journal: