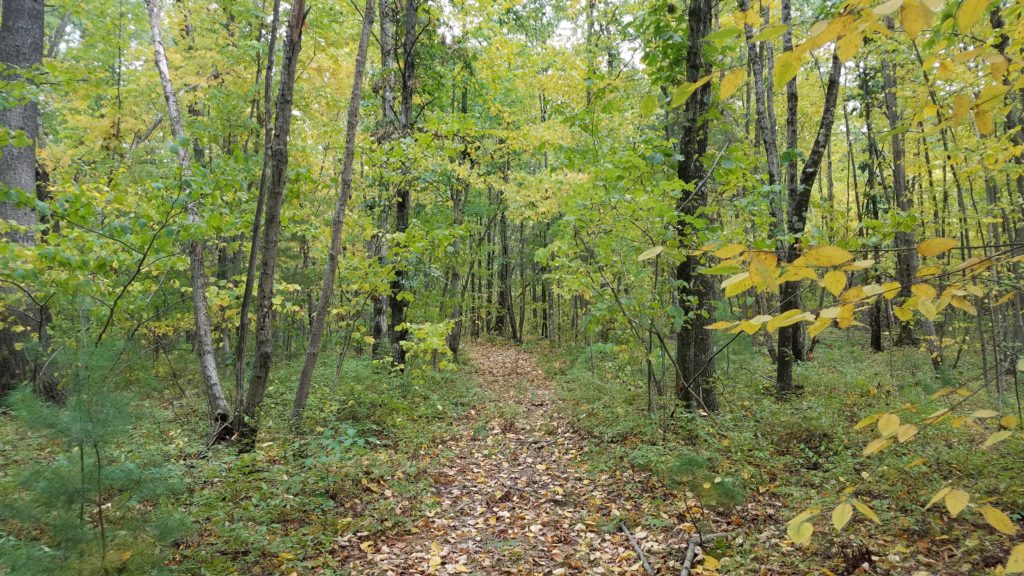 The peace of nature is a true gift and one you can easily give to yourself. Experience a multitude of open space and trail locations and travel through a variety of habitats and cultural landscapes throughout the Blackstone River Valley. Plan your day in the great outdoors using some of the suggested locations listed below.
Before you go, here are some helpful tips to enhance your experience:
Tell a responsible person where you are going and when you think you will return.
If there is no paper trail map available, take a photo of the map at the trailhead.
Note that the conditions of trails change according to the weather and seasons. Some trails are more rugged and isolated than others. Proper precautions should be taken.
Wear layered clothing, supportive footwear, and take plenty of water, snacks, sunscreen, and bug repellent.
Bring a fully charged cell phone.
If you become lost - stay put! A signaling device, such as a whistle, is a useful addition to your daypack.
Take only pictures and leave only footprints.
Dispose of trash responsibly.
Respect private property.
Do a tick check after your hike. Watch our Tick Safety video at the bottom of the page!
Lace-up those shoelaces and let's hike!
Massachusetts
---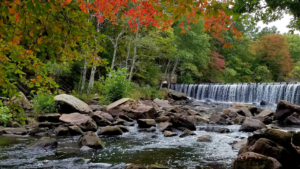 The most dramatic views along the trail are found at the overlooks located every few hundred feet. Here you can stand on rocky cliffs looking down at the Blackstone River 80 feet below. At the end of the trail, you will come to an old baseball field. To the right is the confluence of the Blackstone and the Branch River, which flows in from the west.
---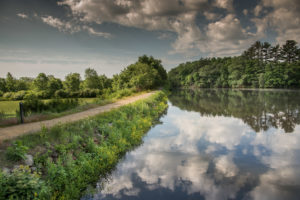 Blackstone River and Canal Heritage State Park celebrates the role of the Blackstone Canal as a transportation link from Providence, RI to Worcester, MA. The park covers over 1,000 acres along the Blackstone River and Canal, offering a number of recreational activities including hiking, biking, canoeing, and fishing.
---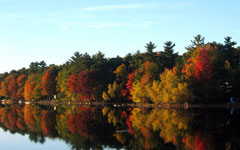 Bordering both Connecticut and Rhode Island, Douglas State Forest contains 4,620 acres of recreational opportunities and scenic lands, including Wallum Lake. Douglas State Forest also includes a rare example of Atlantic White Cedar swampland. A 5-acre portion of this swamp is designated as a Massachusetts Wildland. It is accessible to the public via a boardwalk trail.
---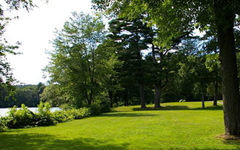 The Draper family hired Warren Henry Manning, designer of Boston's park system, to design a park around their millpond. Enjoy a stroll through this carefully planned woodland of over 1,000 acres – almost 1/3 of the entire town. Find the main trailhead just beyond the Hopedale Town Beach on Hopedale Street.
---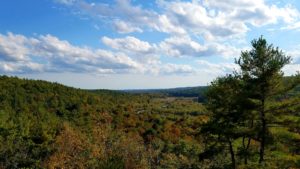 Lookout Rock provides one of the most spectacular views in the Blackstone Valley. Standing atop the rock, you have a view of the Blackstone River snaking its way through Northbridge and Uxbridge and through Rice City Pond.
---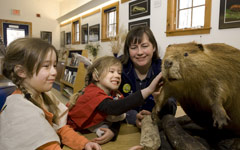 Broad Meadow Brook is the largest urban wildlife sanctuary in New England, including 272 acres for hiking and education programs. Along with a trail network, the sanctuary also offers a number of educational programs encouraging the preservation and conservation of the natural world.
---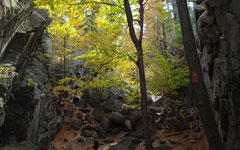 A unique natural landmark, Purgatory Chasm runs for a quarter of a mile between granite walls, rising as high as 70 feet. Popular with picnickers and rock-climbers alike, the Chasm is believed to have its origin in the sudden release of dammed-up glacial meltwater near the end of the last Ice Age, approximately 14,000 years ago. Trails lead to a variety of rock formations.
---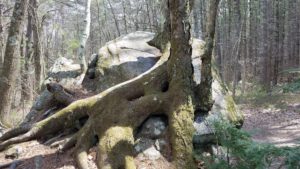 This 2660 acre forest offers visitors a natural diversity of flora and fauna accented with historically significant contributions of the Civilian Conservation Corps (CCC). Trail users can enjoy numerous recreational opportunities. The park is a mix of upland forest and wet habitats (swamp, stream, pond, and seasonal wetlands).
---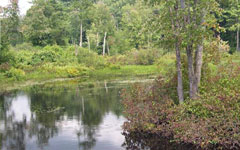 West Hill Dam and Park is a 557-acre park operated by the Army Corps of Engineers. Park facilities include five miles of trails for hiking, biking, and horseback riding.
---
Rhode Island
Come experience Black Hut's hiking trails, wildlife viewing, bird watching trails, and hunting within its 1,548 acres of wonderful forest, wetlands, and agricultural land. Make sure to wear blaze orange during hunting season between October through the end of February.
---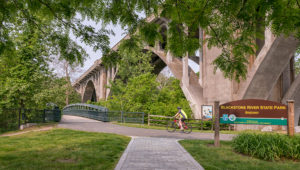 Blackstone River State Park features eight miles of the Blackstone River Bikeway in the towns of Lincoln and Cumberland, RI. For a longer journey, travel from Woonsocket, RI for an 11-mile ride along the bikeway.
---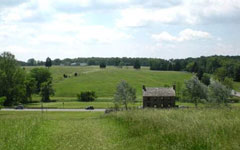 Buck Hill features 1,777 acres of primarily forest land with some wetland area and agricultural land. The Department of Fish and Wildlife maintains a wildlife marsh, which serves to attract waterfowl, furbearers such as muskrat, and other wetland-dependent birds. Make sure to wear blaze orange during hunting season between October through the end of February.
---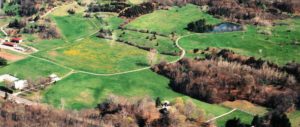 This 118-acre dairy farm was active for a century, until 1965. The park contains 80-acres of charming hills and meadows demonstrating the rural character of the Great Road Historic District. Now preserved as a green space, it is used for a number of activities, such as summer concerts. Also on site is a butterfly garden.
---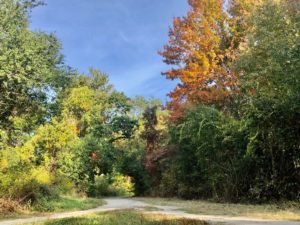 The Cumberland Monastery is a unique property that consists of approximately 481 acres of land. A Trappist Abbey was started on this property in 1902. Over time, the property was purchased by the town. The monks developed trails for recreation and work and include a maze of former roads and walking trails. Some unused stones from the quarry can still be seen lying around in the woods. Trails are color-coded to match the map so you will always know where you are.
---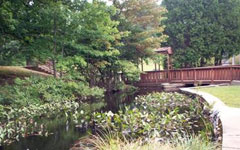 Named for its mile-long face of veined granite quartz, Diamond Hill provides a number of recreation opportunities. The view from the top of Diamond Hill, formerly a small ski slope, is spectacular. The park has athletic fields, a pond, and a picnic area, as well as a number of hiking trails to explore.
---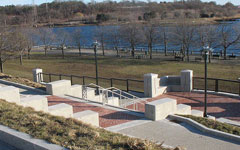 This shoreline park is built over the site of former Indiamen docks, where ships left Providence to trade the produce of the Blackstone Valley to China, India, and the rest of the world. See the mouth of Blackstone River as it empties into the Providence River and on into Narragansett Bay.
---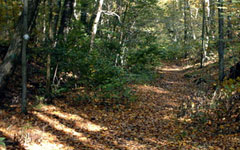 The Lime Rock Preserve is a beautiful and unique habitat that supports more rare plant species than any other site in Rhode Island. It is an excellent place to watch the seasons change, explore walking trails, or look for animals and plants like migrant warblers, raccoons, and trout lilies. The preserve is laced with trails illustrating a wide variety of distinctive New England habitats.
---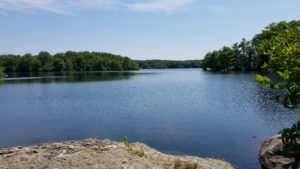 Lincoln Woods State Park is one of Blackstone Valley's great treasures. Lincoln Woods is where over 600 acres are available for swimming at the freshwater beach, trout fishing, hiking, jogging, horseback riding, paddling, picnicking, or just relaxing under a shade tree.
---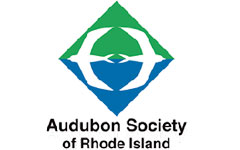 Powder Mill Ledges is home to 100 acres of habitat graced with deep woodlands and interesting rock outcroppings. The refuge is also the headquarters for the Audubon Society of Rhode Island, as well as their education center here.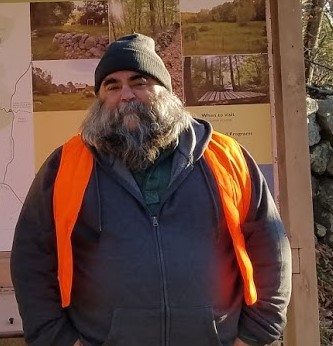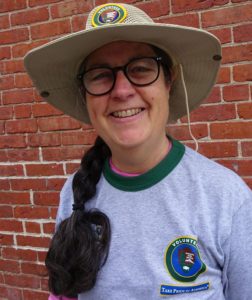 TICK TALK with Terri: Join local tick safety expert Terri Michaelson from Uxbridge, MA, for important information on how to keep you, your family, and your pets safe from ticks.